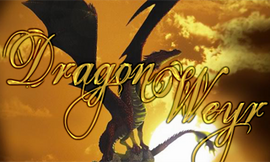 Welcome to Dragon Weyr Wiki
Dragon Weyr Wiki is an encyclopedia about everything having to do with Dragon Riders of Pern by Anne McCaffery but with a twist for our role playing site. It is an enhancement to help finding and cross referencing information about this game.
We are a semi-canon role play with the following changes to canon.
Set in Fifth Pass
Women may impress to Green, Blue, Crimson, Silver, and Gold
Women may become Master Crafters
Two additional dragon colors emerge

Silver (f) - approximate size between Bronze and Brown and able to both produce small clutches. They are 'techincally' able to chew firestone, but beliefs of this time will impede the silvers from using firestone.
Crimson (m) - approximate size between Brown and Blue
Acknowledgements
All references to worlds and characters based on Anne McCaffrey's fiction are copyright© Anne McCaffrey 1967 to present, all rights reserved, and used by permission of the author. (Visit Anne's Blog)
The Dragonriders of Pern® is registered U.S. Patent and Trademark Office, by Anne McCaffrey, used here with permission. Use or reproduction without a license is strictly prohibited
Latest activity
Community content is available under
CC-BY-SA
unless otherwise noted.